Announcing Volly Platform as LoyaltyExpress Rebrands the Company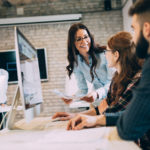 Woburn, Mass., March 22, 2019 (GLOBE NEWSWIRE) — LoyaltyExpress, a leading provider of SaaS-based lending and marketing automation solutions, today announced it has renamed the company to Volly. The new platform and name represent the powerful combination of innovative technology and extensive marketing services that substantially improve lending processes and the competitive necessity to deliver time-sensitive, high-impact communications and lending services from loan officers to consumers.
"One of the biggest challenges today for bank and mortgage executives is the inability to seamlessly manage end-to-end processes for digital and direct mail marketing, robust customer engagement, and compliant lending requirements," says Jerry Halbrook, CEO of Volly.  "As a result, enterprise-wide processes must currently be cobbled together through multiple vendor technology platforms and service providers."  Volly is responding to these widespread inefficiencies by delivering a world-class, component-based platform that will seamlessly integrate marketing and customer engagement strategies with robust lending technologies to achieve an intelligent and consistent experience for each and every customer.  The Volly Platform includes expansive technology and integrations that dynamically support marketing automation, CRM, point of sale, portfolio retention, digital and direct-mail marketing management – all coupled with best-in-industry creative marketing services.
"It's all about enabling our clients to provide intelligent communications and lending services that are responsive to their consumers," Halbrook added.  "That's why we chose 'Power the Journey' for our corporate tagline.  In today's ultra-competitive lending environment, borrowers demand and expect immediacy throughout the entire lending process – which requires organizations to have one view of each customer's entire relationship throughout divisions and departments.  The Volly Platform will uniquely deliver this seamless experience and comprehensive profile so that each customer's journey is satisfying and efficient."
About New Capital Partners
New Capital Partners (NCP) is a private equity firm headquartered in Birmingham, Alabama. NCP partners with niche, tech-enabled services companies in the healthcare, financial and business services industries. Leveraging its extensive operational experience, NCP helps create significant value in portfolio companies by focusing on one core goal: building great companies. For more information, please visit www.newcapitalpartners.com.